staffing agency Monterey, Employment Agency Monterey, Temp Agency Monterey, staffing agency Morro Bay, employment agency morro bay, temp agency morro bay, staffing agency Santa Barbara, employment agency santa barbara, temp agency santa barbara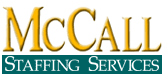 Trusted local temporary staffing and job placement agency serving the San Francisco Bay Area for 41 years.
McCall is a proven staffing resource for businesses, non-profit organizations, temporary employees and job seekers who seek personalized service from the best employment agency offering an established employment network.
Matching client needs with candidate abilities and interests requires knowledge and sound instincts --- which naturally grow with experience. With tenure averaging 19 years, the McCall staff continuity and experience consistently yields high-quality, consistently successful staffing results.
OUR CLIENTS SAY IT BEST!
415.981.3400
Temporary Assignments & Temp-to-Hire

Recruiting & Direct ('permanent') Placement

Payroll Services

Skill Assessments & Software Tutorials

Reference & Background Checks

Employer Consulting & Resume Screening

Employer Out-Placement Assistance